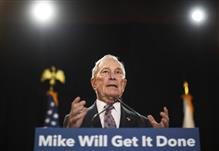 NEW YORK (77 WABC) — The Democrats are taking their campaigns to South Carolina and Nevada, ahead of the Super Tuesday contests March 3 with more than 1,300 delegates on the table.
Bernie Sanders won the New Hampshire Primary,  but edged Pete Buttigieg by just 1.3%.
Now that the smoke cleared, political strategist Hank Sheinkopf said those are not "make or break" races. "They're reflective of nothing. They're small states with minor populations." Sheinkopf said.
Although former mayor Michael Bloomberg hasn't been a factor in Iowa or New Hampshire, Sheinkopf expects big things from the billionaire as the wild card.
Where the complexion changes, Super Tuesday, with at least a dozen races for candidates to run up the delegate count.
Joe Biden, after a disappointing fifth-place in the Granite State, is putting his eggs in the South Carolina basket, hoping the African American voters will make him this election cycle's "Comeback Kid."
"It's a bad bet," Sheinkopf said. "The day that Barack Obama went up on a television ad with Mike Bloomberg having a conversation about endorsing Mike Bloomberg was the end of Joe Biden.  He should save his money, whatever he has left, and buy a house."
However, a senior Biden adviser said Democrats won't declare a winner of this nomination "without hearing from black voters and Latino voters."
While Sanders and Buttigieg battled it out in the first two contests, Sheinkopf said Amy Klobuchar is a viable candidate as the electoral map expands.
"She's someone to really look at," Sheinkopf said. "She has a record of accomplishments."
He thinks Klobuchar would be a terrific VP selection, representing a part of the country that "needs to be on that ticket."
Sheinkopf said, "Frankly, she's got the right gender. She's not crazy, she's right down the middle. She's been the author or been involved in more than a 100 bills alone during her time in the Senate. She's somebody [who] would really do the party proud."