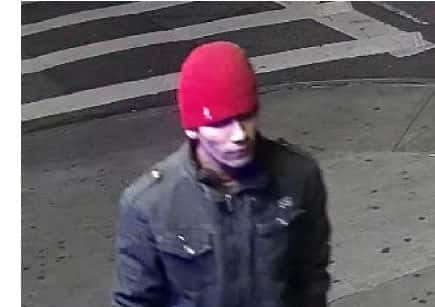 (image from Twitter: @NYPDTips)
By JIM MUSTIAN Associated Press
The country's top immigration official says New York City's so-called sanctuary policies are to blame for the sexual assault and killing this month of a 92-year-old woman in Queens.
ICE STATEMENT (from ice.gov)
"It is made clear that New York City's stance against honoring detainers is dangerously flawed. It was a deadly choice to release a man on an active ICE detainer back onto the streets after his first arrest included assault and weapon charges, and he now faces new charges, including murder," said Thomas R. Decker, field office director for ERO New York. "New York City's sanctuary policies continue to threaten the safety of all residents of the five boroughs, as they repeatedly protect criminal aliens who show little regard for the laws of this nation. In New York City alone, hundreds of arrestees are released each month with pending charges and/or convictions to return back into the communities where they committed their crimes, instead of being transferred into the custody of ICE. Clearly the politicians care more about criminal illegal aliens than the citizens they are elected to serve and protect."
The acting director of U.S. Immigration and Customs Enforcement told a news conference the slaying could have been prevented had city officials complied with a request last year to hand the woman's attacker over for deportation. The remarks come amid an escalation of the conflict between the Trump administration and so-called sanctuary cities. Mayor Bill de Blasio accused immigration officials of spreading lies and using scare tactics.
The Trump administration's scare tactics destroy trust in law enforcement. The day our police ask for immigration status is the day people stop reporting crimes & sharing information. It's the day we stop being the safest big city in America. We won't let that happen.

— Mayor Bill de Blasio (@NYCMayor) January 16, 2020
ICE: Suspect In The Beating Death Of 92 Year-Old Richmond Hill Queens Woman Is In The Country Illegally
IN CUSTODY: Suspect That The NYPD Was Looking For In The Beating Death Of A 92 Year-Old Richmond Hill Queens Woman