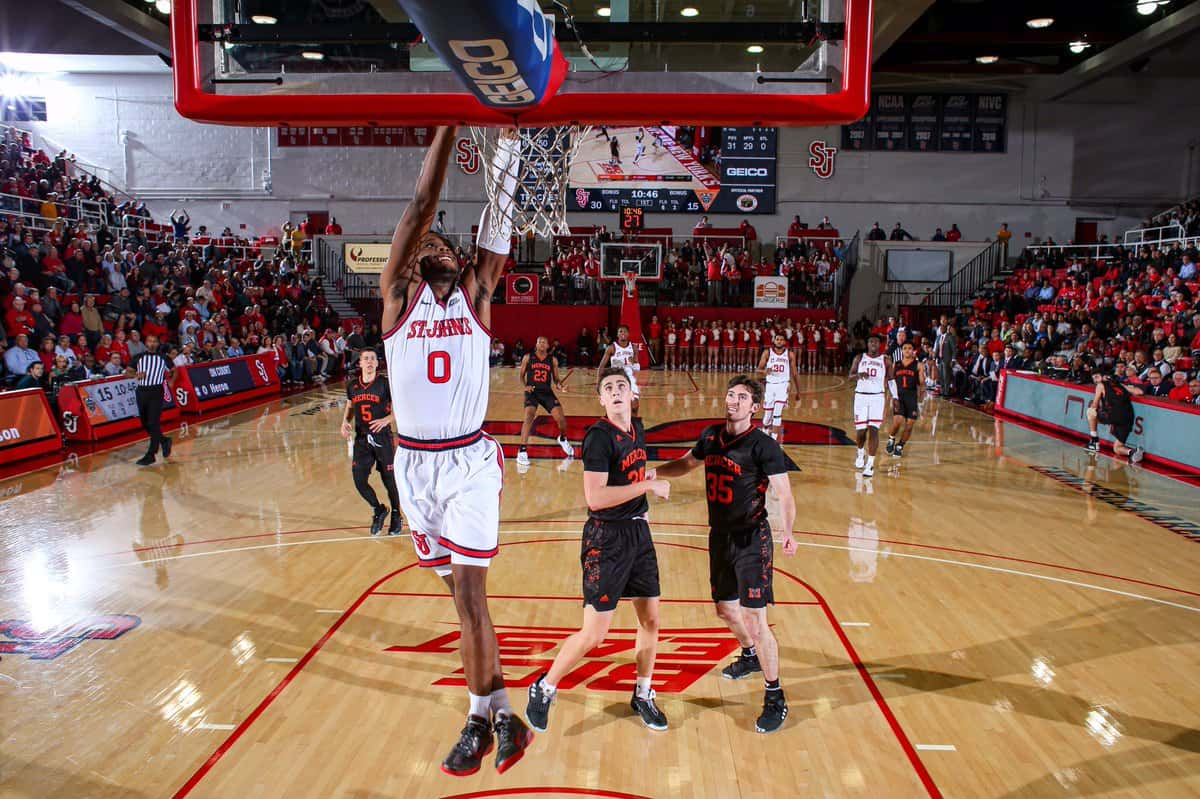 (image from Twitter: @StJohnsBBall)
Heron scores 25 to carry St. John's past Mercer 109-79
NEW YORK (AP) — Mustapha Heron had 25 points as St. John's romped past Mercer 109-79 on Wednesday night for Mike Anderson's first victory at the helm.
Heron shot 4 for 6 on 3-pointers for his 21st career 20-plus game. Anderson was named the 21st head coach in program history in April.
 Take a look at some of our top photos from win No. vs. Mercer

Full Gallery ➡️ https://t.co/BdPKudHj2U#SJUBB | #WeAreNewYorksTeam pic.twitter.com/XRTIqhoS13

— St. John's BBall (@StJohnsBBall) November 7, 2019

LJ Figueroa had 18 points for St. John's in the season opener for both teams. Marcellus Earlington added 17 points. Nick Rutherford had 14 points with eight assists and only one turnover.
St. John's led 59-38 at halftime after forcing 15 turnovers.
Ethan Stair scored a career-high 23 points and had 10 rebounds for the Bears. Luke Hamilton added 10 points. Djordje Dimitrijevic had 10 points.
St. John's plays Central Connecticut at home on Saturday. Mercer plays Columbia International at home on Friday.
Washington lifts San Jose St. over Hofstra 79-71
HEMPSTEAD, N.Y. (AP) — Rich Washington scored 23 points and Craig LeCesne had a double-double as San Jose State topped Hofstra 79-71 in a season opener on Wednesday night.
LeCesne had 19 points and 11 rebounds for San Jose State, which won only four games last season. Seneca Knight added 13 points and eight rebounds. Brae Ivey had 10 points for the Spartans.
After Hofstra led 61-53 with 7 minutes to go San Jose State closed with a 26-10 run, at one point making seven consecutive field goals in a 12-0 spurt.
Eli Pemberton had 23 points for the Pride. Jalen Ray added 13 points. Desure Buie had 13 points and seven assists.
San Jose State plays Portland at home on Sunday. Hofstra faces Monmouth at home on Saturday.
Ivanauskas scores 24 to lead Colgate past NJIT 80-75
HAMILTON, N.Y. (AP) — Rapolas Ivanauskas scored 24 points as Colgate edged past NJIT 80-75 on Wednesday night in a season opener.
Will Rayman had 18 points and 12 rebounds for Colgate. Nelly Cummings added 16 points. Jordan Burns had 10 points and six assists.
Colgate blew a 19-point second half lead but Cummings scored with 3:37 to put the Raiders back on top at 70-69 after NJIT took a brief lead. Shyquan Gibbs scored for NJIT with five seconds left to close within 78-75 but Ivanauskas sank two free throws to seal the win.
Colgate, the defending Patriot League champion, returns its top five leading scorers.
Zach Cooks had 23 points for the Highlanders. Gibbs added 16 points. San Antonio Brinson had 15 points.
Colgate plays Clemson on the road on Sunday. NJIT takes on Providence on the road on Saturday.
___
For more AP college basketball coverage: https://apnews.com/Collegebasketball and http://twitter.com/AP_Top25
___
Elements of this story were generated by Automated Insights, http://www.automatedinsights.com/ap, using data from STATS LLC, https://www.stats.com