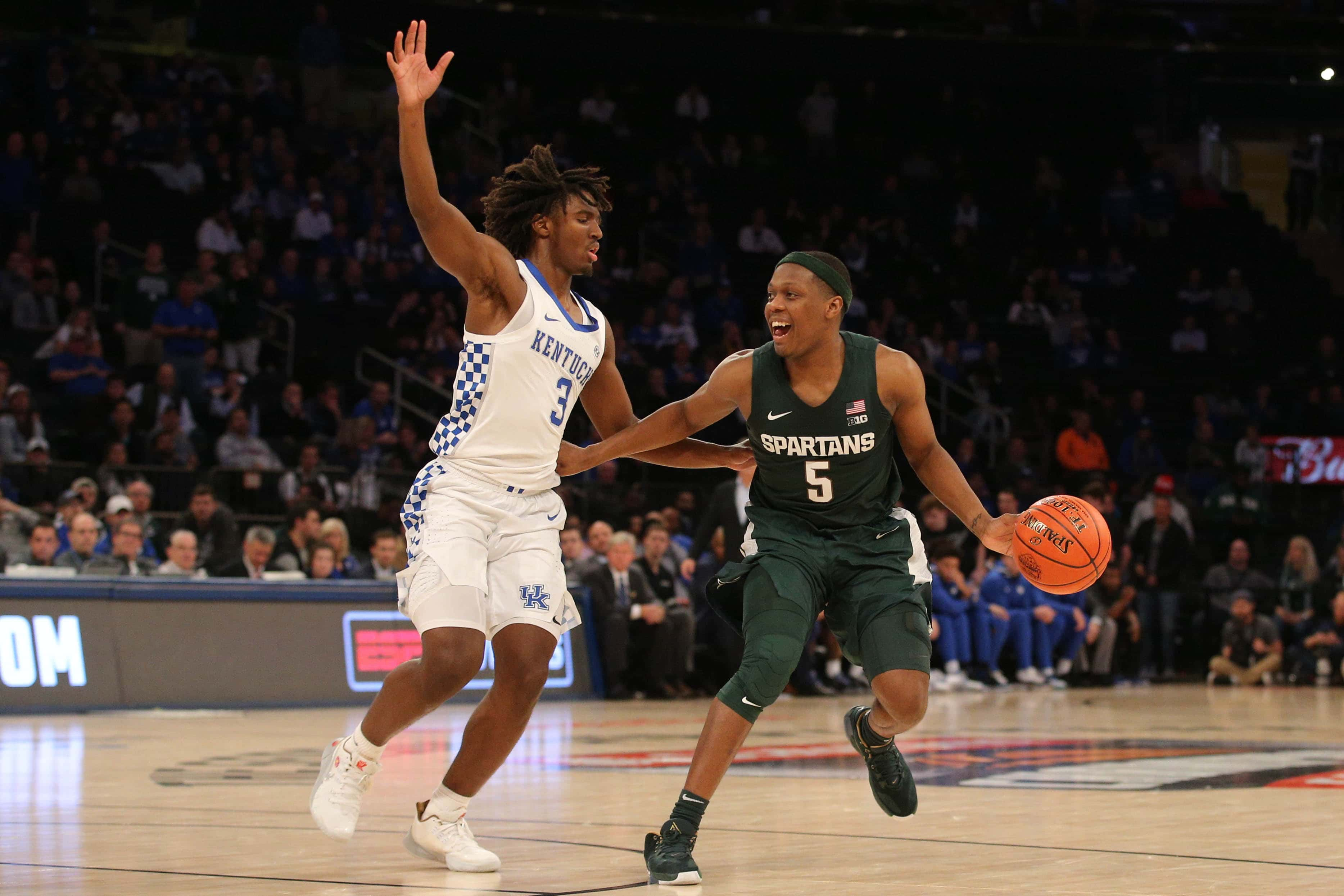 Maxey leads No. 2 Kentucky past No. 1 Michigan State 69-62
By RALPH D. RUSSO AP College Sports Writer
NEW YORK (AP) — Kentucky's latest freshman star is a guard from Texas who likes to smile wide and take big shots.
Tyrese Maxey scored 26 points, including a clutch 3 that beat the shot clock with a minute left, and the second-ranked Wildcats opened the season with a 69-62 victory over No. 1 Michigan State on Tuesday night in the Champions Classic.
A day after his 19th birthday, Maxey came off the bench at Madison Square Garden and had one of the best debuts for a freshman in coach John Calipari's 11-years at Kentucky, which has been filled with one-and-done guards like John Wall and Devin Booker.
"I wanted him to come in firing," Calipari said.
The Nos. 1 and 2 teams opened their seasons against each other for the first time since 1975, and the Wildcats made their case to be top-ranked next week.
Michigan State entered the season as the No. 1 team in the country for the first time, but aside from All-American Cassius Winston, the Spartans struggled to score. Winston had 21 points.
No. 4 Duke edges third-ranked Kansas 68-66
By DOUG FEINBERG AP Basketball Writer
NEW YORK (AP) — Duke coach Mike Krzyzewski was pleased with his young team's poise in the season opener, especially that of sophomore Tre Jones.
Jones scored 15 points and Cassius Stanley added 11 of his 13 points in the second half to help No. 4 Duke beat third-ranked Kansas 68-66 in the opener of the Champions Classic on Tuesday night at Madison Square Garden.
"The difference maker was Tre. Lot of young guys, lot of new guys," Krzyzewski said. "We really tried to play good defense in our first 30 practices. We played really good defense (tonight). It starts with that kid. Really happy with my team. Terrific win for us."
While Duke doesn't have the star-studded freshmen class of last season of Zion Williamson, Cam Reddish and RJ Barrett, Krzyzewski may have a more balanced team, capable of making plays down the stretch when needed.
"One of the main things I have to learn how to do is sub," the Hall of Fame coach joked. "Last couple years might bring in one guy. All of a sudden there are three guys. Not sure I did a good job, but it worked."
Trailing 61-59 with 2:29 left, Stanley drove to the basket and made the layup and was fouled. The freshman guard converted the free throw to give the Blue Devils a one-point lead.
Devon Dotson missed a layup on the other end and Jones then hit a jumper that bounced off the rim twice before dropping in with 1:33 left.
Marcus Garrett got the Jayhawks back within one. After a miss by the Blue Devils, Kansas turned the ball over with 37 seconds left. It was the Jayhawks' 28th turnover of the game. Jones then converted two free throws with 26.2 seconds left.
Kansas had chances, but couldn't convert until Dotson banked in a meaningless 3-pointer at the buzzer.
Powell scores 27, leads No. 12 Seton Hall past Wagner 105-71
By MATT SUGAM Associated Press
SOUTH ORANGE, N.J. (AP) — Seton Hall cruised to victory in the absence of coach Kevin Willard. Star guard Myles Powell is looking forward to getting his mentor back.
Powell scored 27 points to lead No. 12 Seton Hall to a 105-71 win over Wagner on Tuesday night, without Willard on the sidelines.
"You guys see how good we can be at the end of the year last year and we're just trying to keep that train rolling so it starts with me and coach Willard as the head guys of coach being head coach and me being a leader," Powell said. "So like I said, we're going to come back watch film and see how we can get better. Seventy-one points, I mean, that's a lot of points and I know coach, the first thing coach is going to notice."
Seton Hall announced a week ago that the NCAA is investigating the program and Willard would be sitting out two games in what has to be considered a suspension. The school didn't say what the NCAA enforcement staff was investigating, but said it was working with the ruling body for college sports.
Robinson-Earl spurs No. 10 Villanova past Army in opener
By DAN GELSTON AP Sports Writer
VILLANOVA, Pa. (AP) — Jeremiah Robinson-Earl became one of the handful of Villanova freshmen to start an opener in 19 seasons under Jay Wright.  Inexperienced? Perhaps.  Sensational? Absolutely.  Robinson-Earl led a new-look Villanova to a familiar rout, with 24 points and 13 rebounds in the No. 10 Wildcats' 97-54 win over Army on Tuesday night.
"I can't say I was surprised," Wright said. "I'm impressed with his maturity and his basketball IQ."
Robinson-Earl was considered one of the top 15 recruits in the nation and is the son of former Kansas Jayhawk Lester Earl. The Kansas native finished his prep career at IMG Academy in Bradenton, Florida. Robinson-Earl made 9 of 14 shots (with five turnovers) and proved Wright was correct in giving the hyped freshman the start.
Cherry scores 14 to lift Lafayette over Columbia 65-63
EASTON, Pa. (AP) — Myles Cherry had 14 points and 11 rebounds off the bench, including the winning put-back with 30 seconds to go, to lift Lafayette to a 65-63 season-opening win over Columbia on Tuesday night.
After Justin Jaworski missed a contested layup, Cherry kept the ball alive at the rim, then grabbed the ball and banked it in.
Jake Forrest's 3-pointer from the top of the key rolled off the rim at the end.
Lukas Jarrett had 10 points for Lafayette, which led by 10 midway through the second half.
Jawkorski was just 1 of 5 from 3-point range but it ran his streak to 48 games with a trey, the second-longest in the nation.
Mike Smith had 22 points for the Lions. Ike Nweke added 12 points and seven rebounds.
Lafayette was without junior guard Alex Petrie, who is out for the season with a medical condition. The one-time Rookie of the Year in the Patriot League averaged 15 points as a freshman and more than 14 last season.
Atkinson carries Yale over Stony Brook 74-69 in OT
STONY BROOK, N.Y. (AP) — Paul Atkinson had a career-high 26 points as Yale narrowly defeated Stony Brook 74-69 in overtime on Tuesday night in the season opener for both teams.
Azar Swain had 17 points and seven rebounds for Yale. Jordan Bruner added 11 points, 13 rebounds, six assists and four blocks.
Eric Monroe hit a 3-pointer to open the scoring in overtime and the Bulldogs led the rest of the way. The Seawolves shot just 2 of 8 from the field after regulation.
Miles Latimer hit a 3-pointer to give Stony Brook a 62-61 lead with 19 seconds left in second half. He had made just 2 of 10 from the field prior to that shot. Atkinson was fouled 14 seconds later and made 1 of 2 foul shots to force the extra period.
Elijah Olaniyi had 19 points for the Seawolves. Miles Latimer added 16 points and six rebounds and Makale Foreman had 13 points.
Yale takes on Oberlin College at home on Friday. Stony Brook faces Seton Hall on the road on Saturday.
Ohams carries Fordham past St. Francis Brooklyn 68-59
NEW YORK (AP) — Chuba Ohams had 19 points and 13 rebounds to carry Fordham to a 68-59 win over St. Francis Brooklyn in a season opener on Tuesday night.
Ivan Raut had 15 points for Fordham. Antwon Portley added 14 points and six assists. Erten Gazi had 11 points.
Unique McLean had 13 points and eight rebounds for the Terriers. Chauncey Hawkins added 12 points. Yaradyah Evans had seven rebounds.
Fordham matches up against Fairleigh Dickinson at home next Wednesday. St. Francis Brooklyn plays Lafayette at home on Saturday.
Russell carries Rhode Island over LIU 76-65
KINGSTON, R.I. (AP) — Fatts Russell had 18 points to lead five Rhode Island players in double figures as the Rams topped Long Island University 76-65 on Tuesday night in the season opener for both teams.
Cyril Langevine added 16 points and 15 rebounds for the Rams. Jeff Dowtin and Tyrese Martin added 13 points apiece and Jacob Toppin scored 11. Martin grabbed eight rebounds.
Ashtyn Bradley scored a career-high 21 points and had six rebounds for the Sharks. Ty Flowers added 15 points and 12 rebounds and Jashaun Agosto had seven points and tied his career high with 10 assists.
Rhode Island matches up against Maryland on the road on Saturday. Long Island-Brooklyn plays UMass Lowell at home on Friday.
Salnave, Hammond help Monmouth weather Lehigh charge 66-62
BETHLEHEM, Pa. (AP) — Ray Salnave scored 15 points and Deion Hammond added 14 as Monmouth held off a last-minute Lehigh surge for a 66-62 season-opening win on Tuesday night.
Salnave scored Monmouth's last four points and Melik Martin deflected a last-second Lehigh 3-pointer as the Hawks held on.
Lehigh trailed by 16 early but steadily closed the gap. James Karnik scored 13 points, pulled down a career-high tying 13 boards along with three blocks for the Mountain Hawks.
A Karnik drive made it a one-point game with 4:16 left to play. Monmouth answered with a pair of Salnave free throws and a corner trey from George Papas.
Salnave converted a three-point play that pushed the lead back to nine with 2:25 remaining only to see Lehigh trim the lead back to 65-62 with under a minute to go. Salnave added a free throw with eight seconds left and Martin got enough of a slap on Marques Wilson's 3-point try from the right corner that the ball fell well short of the basket and Sam Ibiezugbe wrapped it up as time expired.